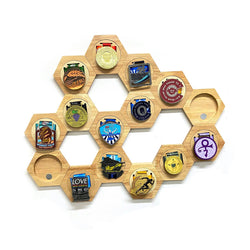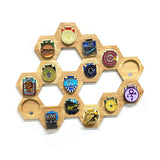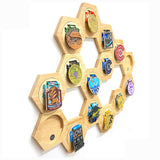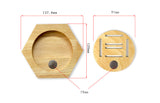 ✅ No Import TAX for European customers
✅ Free Shipping on orders over $90 USD

Turn your most meaningful race medals into a piece of art
The new LEDK Hexagon medal display allows you to build the coolest decoration in your home by displaying your favourite running medals on the wall. If you have medals at home that are more special than others, then this is going to add more meaning to those race medals that will instantly catch people's eyes.


Seeing your most meaningful medals on the wall inspires you to work even harder and also makes you very proud of the things you have accomplished so far.


Build the most meaningful decoration in your home
● Display your most meaningful medals in an eye-catching way one by one so you can make them stick out.

● Build the coolest decoration in your home with your favourite medals that inspires you to push harder at your favourite sport. 

● It is important to see your most meaningful achievements one by one on the wall. Things you worked so hard for. When you can look and say I did that! And be really proud of your accomplishments. 

● Pick your favourite medals from your drawer that gives you the opportunity to show off all of your coolest medals. 


It's important to see your achievements. Things you worked so hard for. When you can look back and say I did that! And be proud.
Display your most meaningful race medals in an eye-catching way instead of putting them in the box

Just imagine the feeling each time you wake up and you see your most meaningful running medals on the wall one by one. This is a sure way to feel inspired because each medal represents hard work and massive dedication that will live with you forever. 

The most meaningful and unique gift for the Runner in your life that makes their love for their passion even larger
Just imagine the reaction from your close friend or family member when they can finally display their medals on the wall one by one. It will without a doubt be their most meaningful gift because when you display your medals, it's more than just a cool decoration. It's a representation of your hard work, dedication, and your passion!

Our "Bullet-Proof"


60 Day Risk-Free Guarantee


& Life-Time Warranty
We are so confident that our Hexagon Medal Display will make a positive impact in your life that if you are not happy with your purchase within 60 days, we don't want your money. We will get you your hard-earned money back. No questions asked.

We really mean it when we say "Bullet-Proof" guarantee. Try it for 60 full days and if you don't like it, we will refund you your money back.

We also have a lifetime warranty meaning that if your medal hanger breaks, we will replace it immediately. We are taking all the risk from you so you.
Shipping & Delivery
All orders are expertly packaged, prepared, and shipped within 1-3 business days of ordering. The typical delivery time frame is between 10-18 working days.

Depending on your location, you may receive the items much earlier. 


Click "
Add To Cart

" to build your own piece of art with your most meaningful medals!

Specifications
Material: Pine
Made from: Raw Wood
Size: 137.6*120*15mm / 5.4*4.7*0.6in
Weight: 100 g / 0.22 pounds